Ohio Kitchen Remodel Timeline: How Long Does It Take?
Most homeowners understand that a kitchen remodel is a complex job, but you're likely wondering how long a kitchen remodel takes from start to finish. There are many averages out there, so we're breaking down each step and the average time it could take to complete each one so you'll have an idea of what to expect.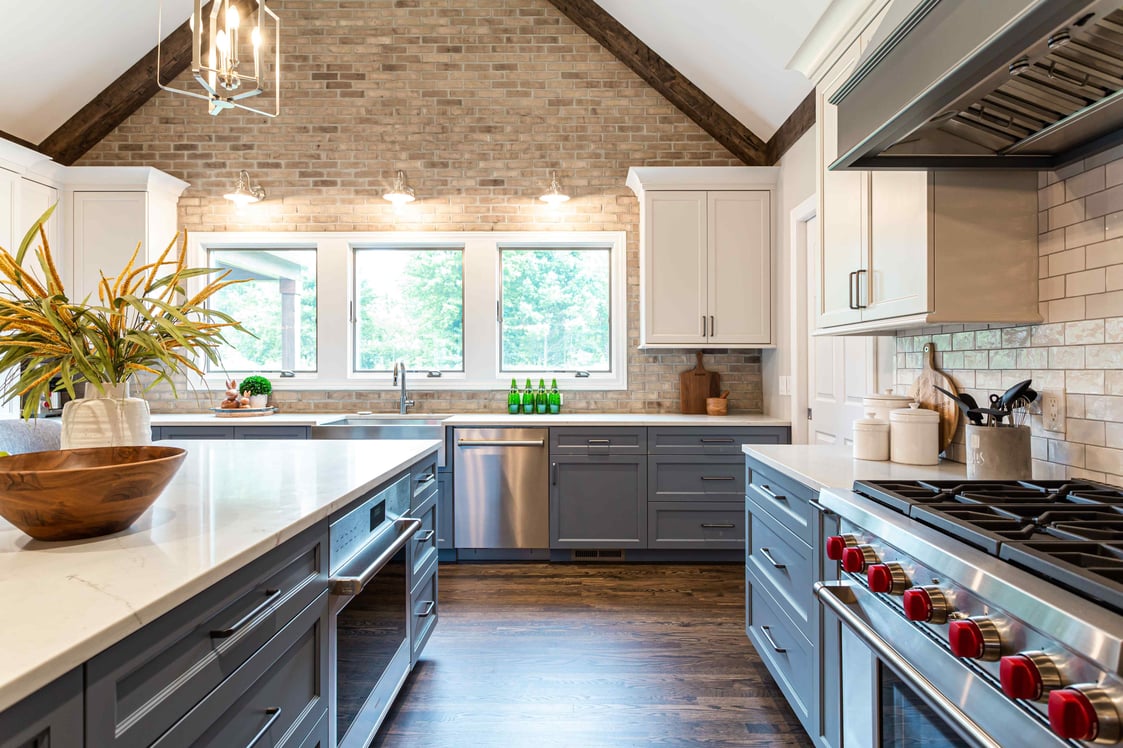 An Important Note About This Guide
Timelines are much like average kitchen remodeling costs. Although industry averages exist, your unique kitchen remodel could fall outside of these average timelines for many reasons. The complexity of the project, scope of work, and size of your kitchen are just a few of the factors that will dictate just how long your kitchen remodel will take. Look to a trusted design-build firm to understand your project goals and look to their knowledge and expertise to estimate a more accurate timeline.
What Is the Average Timeline for a Kitchen Remodel?
On average a kitchen remodel could take up to a year, or possibly more, including six to eight months of pre-construction. What does this mean? There will be several months of preparation before demolition of your current kitchen will even begin. This amount of time is necessary to ensure your kitchen remodel is a success, so rushing through pre-construction could result in mistakes or a kitchen that falls short of your expectations.
Research & Interviews (2-3 months)
The length of time this step will be is up to you and isn't part of our projected timeline. However, it is something you should add to your own expected timeline. Do plenty of research concerning design styles. Spend time taking note of your kitchen's challenges and ideas for what solutions could improve your space.
You'll want to schedule a few interviews with different design builders to decide which will be the perfect fit for your project. Keep in mind that qualified contractors won't be available to start construction for several months, but pre-construction can happen during this time. A contractor that can start construction almost right away isn't in demand, which could be a reflection of their skill or experience.
Design Consultation, In-Home Assessment, & Design (1 to 2 months)
The time during your initial consultation will be used to learn about your project and your assessment will be used to determine initial feasibility. Your designer will work with you on solutions to your kitchen's challenges and explore different options. They will gather information from you about your design aspirations and obtain measurements.
Design will commence with this information in hand. Be sure to arrive at your initial design meeting with ideas and examples of styles and finishes via magazine clippings or an online design board. Your designer will create a design with these specifications and make changes as needed.
Next will come product selection based on both your design and your budget. By working with a design-builder, your product selections will come with accurate prices so you can be confident that the products you choose won't overextend your budget. Finally, you'll sign off on the design.
Product Ordering (up to 2 months)
Every material that's in your design will now be sourced and ordered–cabinets, flooring, backsplash, fixtures, and so on. Depending on your choices, this could take weeks to months to receive and inspect the materials.
Completely custom cabinets will take longer than factory cabinets. A specific slab of marble will take longer to source than manufactured quartz. Keep in mind that your dream kitchen is taking shape with every material, so if a certain material is on your must-have list, you'll be glad you waited for the perfect piece in the end.
Kitchen Demolition (1 to 2 weeks)
This part of the timeline could take longer depending on the extent of your remodel. Every part of your kitchen will be removed.
Structural Updates (2 to 4 weeks)
If you're creating an open floor plan, walls will need to be removed. If you're expanding your kitchen and adding square footage to your home, this will include removing part of an exterior wall, extending your foundation, extending your roof, and building new exterior walls. New windows or doors will also be installed.
Electrical & Plumbing Installation (3 to 5 days)
Electrical and plumbing rough-ins will need to be completed before drywall and flooring can be installed.
Drywall & Paint (1 to 2 weeks)
Drywall, insulation, prep, prime, and painting are next. If your design requires more intricate painting, you could exceed this time frame.
Flooring Installation (3 to 5 days)
Depending on the type of flooring you choose, your floors may be installed before or after the cabinets. Some flooring will take longer than others to install. For example, hardwood parquet flooring will take more time than luxury vinyl tile. Hardwood floors will require staining and sealing, whereas tile flooring will only require time for the adhesives to cure.
Cabinets, Finishes, Fixtures, & Appliances (2 months or more)
Finally, the style will really come through once these details are all installed. Cabinets will take a few days to install. Your countertops will come next. Fabrication and installation will depend on the material you've chosen but expect around one to two weeks. This timeframe might be longer than most think and is because exact measurements to create your countertops can't be taken until the cabinets are installed.
Next will be the backsplash and tilework, which can take a few days to install and grout. Lighting, plumbing fixtures, appliances, hardware, and other finer details will be installed and could take two to five days.
Finishing Touches & Clean Up (1 to 2 weeks)
Any painting touch-ups and cleaning will consume the final two weeks of your timeline. Afterward, your kitchen will be cleared of any dust and debris, wiping down cabinets and countertops, to ensure your walk-through exhibits your kitchen as it will look when you're ready to unpack and get settled. At this point, if you notice a cracked tile or scuffed paint, a punch list will be made and those last items will be resolved.
How to Find the Right Design-Build Firm in Cuyahoga County
A simple search online will deliver more design-build firms than you can possibly interview. Take your time to view their online portfolios, read reviews, and ask family and friends for recommendations. From here, schedule interviews and arrive with a list of questions to make sure they are insured, experienced in your type of project and design style, and can explain their process clearly.
Payne & Tompkins Design + Renovations is a full-service design-build team that serves the greater Cleveland area, delivering impeccable designs and craft that exceed expectations while ensuring your project will remain within your budget. To schedule a consultation or interview, contact us and we'll be happy to learn about your project and answer any questions you may have.