What Does a Whole Home Remodel Cost in Ohio
A whole home remodel can take many different routes. Are you looking to gut several rooms? What about gutting only the kitchen and refinishing the other areas of the home? Perhaps you're looking to add an entire second story while choosing new flooring, paint, and other finishes for the downstairs. Given the variety of remodeling avenues a homeowner could take, it's difficult to give a precise estimate for a whole home remodel.
However, we've broken down the main spaces and additions homeowners will typically consider with a whole home remodel and give you a cost range to serve as a good starting point.
Kitchen Remodel
$125,000 to $175,000
Many homeowners look to remodel their kitchen because the space is too small to function properly, the finishes are dated, storage is sparse, or there's disrepair beyond quick fixes. A new kitchen can improve how your entire day progresses. You start and end your day in the kitchen, making it an integral part of your experience in your own home.
The amount you'll invest in your kitchen remodel will depend on its current condition. Opening your floor plan and adding square footage to fit more appliances, storage, and an island will of course have a higher cost than simply updating all of the finishes and investing in new energy-efficient appliances.
In your whole home remodel, consider these updates for your kitchen:
Expanded pantry space

Improve flow and function by changing the layout

Open the floor plan and increase space by merging rooms

Add an island, or two, with integrated seating and storage

Update your storage with custom options

Add a butler's pantry for smaller appliances, a second sink, and added storage
Primary Bath Remodel
$90,000 to $125,000
The primary bath is another popular room to update. The bathroom has come a long way in technological advances that can offer an at-home spa experience and many homeowners are taking advantage of what's available.
Beyond the basic replacement of worn-out or dated finishes, like tile, flooring, and fixtures, consider these other updates:
Full renovation and redesign of the layout

Expand the shower, include a steam system with a Bluetooth system and glass enclosure

Improve storage with custom cabinets

Install in-floor radiant heat

Choose a freestanding tub with heated tub walls

Include a variety of lighting options like a backlit vanity mirror, sconces on a dimmer switch, and a chandelier

Bring in more natural light with a skylight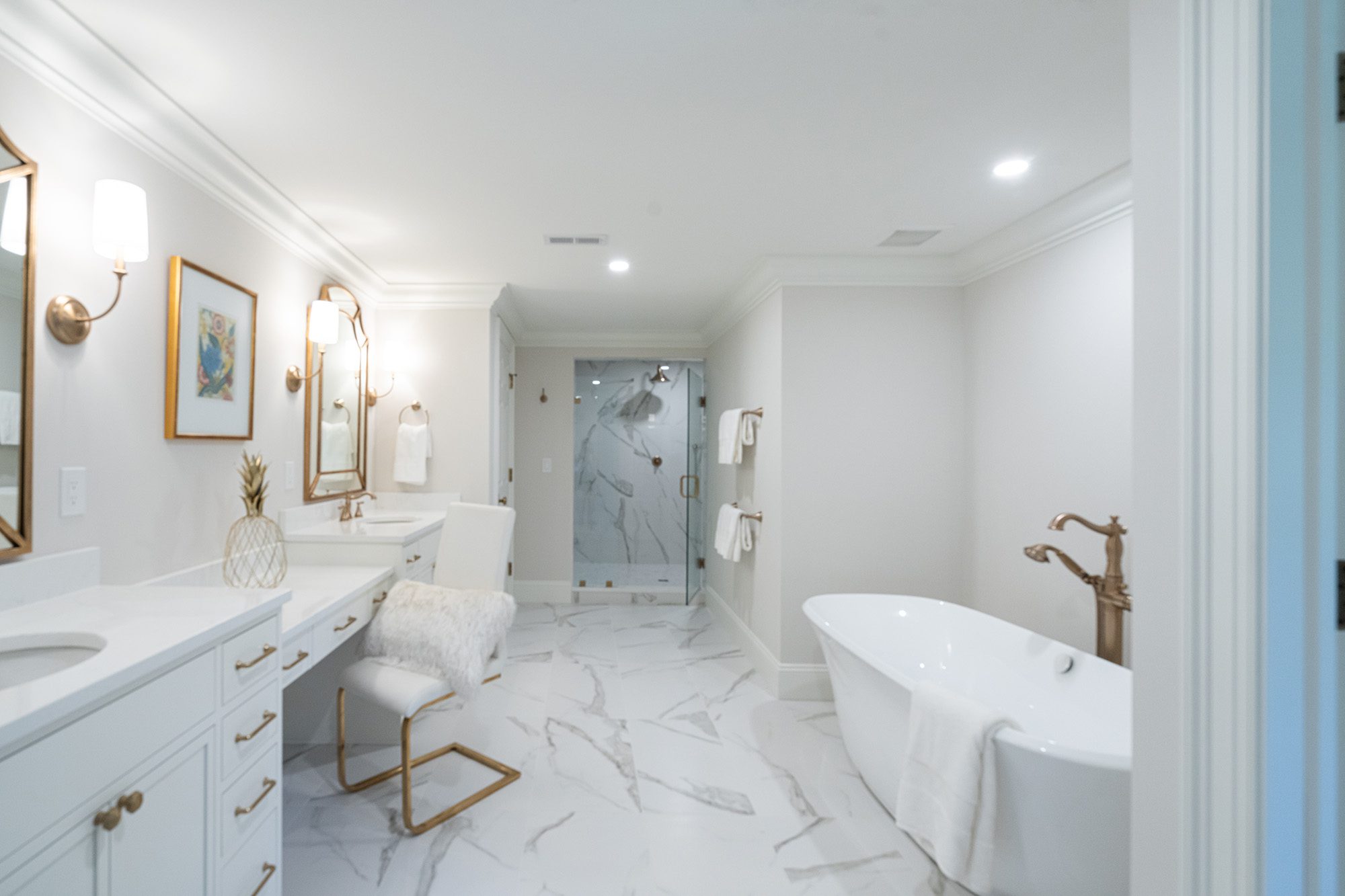 Basements
$125,000 to $200,000
An unfinished basement is a home's biggest untapped potential. The cost to finish a basement will greatly depend on whether your basement has been water-proofed and walled-in, with electricity and plumbing, or if you're starting with a raw space. Given that this is typically considered a bonus space by many, the possibilities are plenty:
In-home theater with plush seating, a wet bar, and a bathroom

At-home bar with a mini fridge, sink, storage for glassware, bathroom, TVs, and in-wall sound system

Guest suite

Home office with a wet bar and bathroom

Billiards room
Additions
$300,000 to $700,000
Additions are the widest range of cost because there are so many different types of additions homeowners will typically opt for in a home. If your home feels cramped in certain spaces, entertaining is challenging because of too-little common space, too many household members sharing a bathroom, or you aren't able to enjoy your outdoor areas as much as you like, an addition is a great investment. Some of the most common additions are:
First-floor primary suite

In-law suite

Expanded kitchens

Expanded garage

Three- or four-season sunroom

Screened-in porch with a deck, lounge area, and dining space

Outdoor Kitchen

Second story addition

Mudroom

Laundry Room

Additional bedroom

Additional bathroom
Primary Suite Addition
$170,000 to $350,000
If your home is older, it's possible that it never had a primary suite from the start. Give yourself the privacy and luxury of a full primary suite to start your day in peace or unwind in the evening. Usual features of a primary suite include:
An entry hallway

Sitting area with a fireplace and built-ins

Walk-in closets or a large dressing room with custom storage

Personal laundry closet with a stackable washer and dryer

Private balcony or deck

Primary bathroom
Whole Home Remodel
~$500,000 to $700,000
Here, the cost estimate for a whole home remodel is a standard range that may not include additions. If additions are included, the cost will increase. These estimates include structural changes, like opening the floor plan in the living area and kitchen, updating finishes, fixtures, paint, and more throughout the home, and other changes. To find out more about whole home remodel costs in the Cleveland area, contact an experienced home design-build team.
Design-build is a full-service firm that can take your home remodel from concept to completion. The benefits are plenty, such as relying on a single entity for design and construction while having only a single point of contact. The process is seamless and the design is impeccable with the right team.
Payne & Tompkins Design+Renovation is a Cleveland area design-build team with a reputation for designing beautiful spaces with care and superb craft in Cuyahoga County. Contact Payne & Tompkins to learn more about the design-build process and schedule a consultation.