How Much Does a Bathroom Remodel Cost in Greater Cleveland?
When you've grown tired of your dated bathrooms, cramped spaces, poor lighting, and inefficient storage, it's time to make your daily routines easier and more enjoyable with a remodel. One of the first stages of planning for a remodel is determining your budget. But how will you know how much to realistically budget for your bathroom remodel? This guide will help you understand the different levels of a bathroom remodel, what's included at each level, and how much, on average, it may cost.

A Note About this Guide
Having the average cost of a bathroom remodel helps you feel prepared and allows you to budget properly when you're looking around for a talented and trustworthy builder to complete your project. However, with any home cost guide you'll find, keep in mind that averages may not accurately reflect what your unique project will cost. This is why we'll break down the costs of the three main levels of a bathroom remodel in the Cleveland area, what's included in each level, then explain how costs are calculated.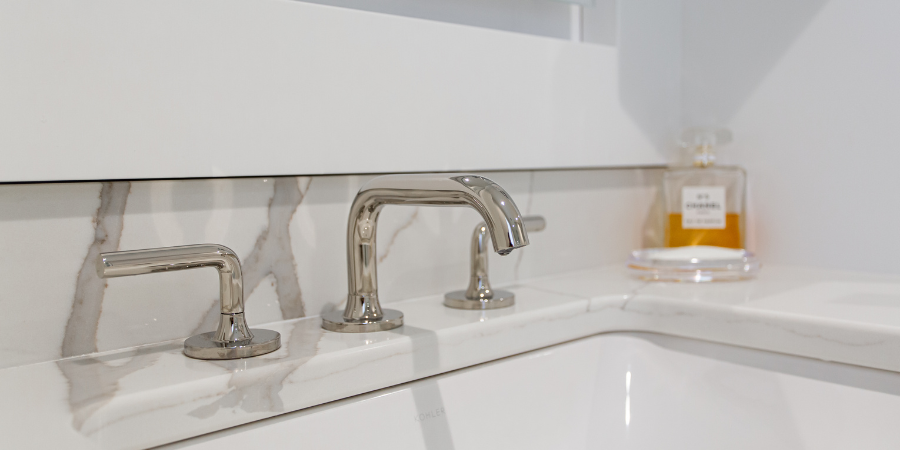 How much does it cost to remodel a bathroom in Ohio?
Bathroom remodeling costs in Cleveland are divided into three categories: midrange, upscale, and primary suite remodels. Each level considers the size of the room, the materials that go into the project, and the possibility of layout changes. Midrange and upscale remodeling costs are derived from the Cost vs Value Report, which averages the costs of real projects in the Cleveland area.
Midrange
A midrange bathroom remodel, as described in the Cost vs Value Report, begins with a 5x7 full-size bathroom. Every finish and fixture is removed, from the tile and plumbing fixtures to the vanity and lighting. At this level, the bathtub shower combo will be replaced with a porcelain tub with ceramic tile on the shower walls. Ceramic tile is durable and available in any color that you'd like to create a stylish color palette.
For your plumbing fixtures, you'll choose new faucet and shower fixtures aligned with the builders predetermined allowances that suit your reimagined bathroom design. Plenty of stylish designs are available at this level that range from traditional to contemporary and in any metal finish, like matte black, brilliant polished chrome, or brushed nickel. For your counters at the midrange level, quartz countertops in any shade are a stylish choice. Sleek black quartz on a vanity in white or a subtle color is a striking choice. Or, go classic with bright white quartz on a clean white vanity.
The midrange bathroom remodel is finished with porcelain tile flooring, strategic lighting solutions, and fresh paint. Make your bathroom your own with patterned wallpaper that either stretches from floor to ceiling or above wainscoting. The midrange bathroom remodel begins at $30,000 and can increase from there depending on your finish choices.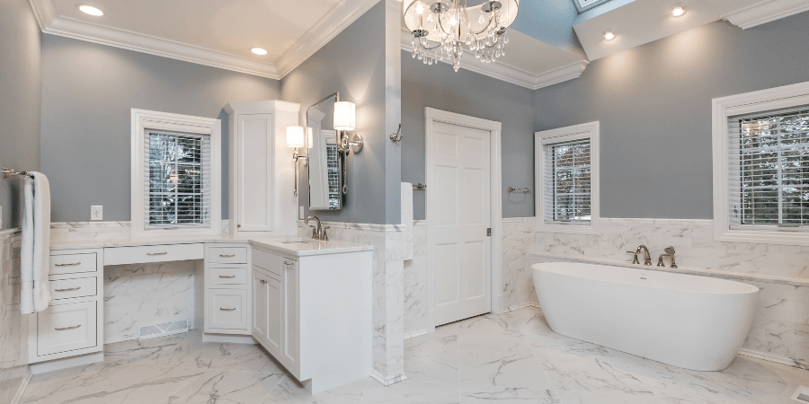 Upscale
An upscale bathroom remodel begins with the same 5x7 footprint and expands the space to 100 square feet within your home's existing footprint. With the extra space, you can upgrade your shower bathtub combo to a walk-in shower and freestanding tub. Finish the shower with porcelain tile in a trending geometric shape and a fresh color, like sea green, slate gray, or an interesting pattern. With the added square footage, an upscale bathroom remodel also has space for a private commode closet.
The fixtures at the upscale level include high-end designer styles, which opens your choices to more refined pieces. On your vanity will be a natural stone countertop below a vanity mirror flanked by designer sconces. Imagine a white marble counter on a sky blue vanity, a mirror with a minimal light wood frame, and tasteful sconces that offer a soft glow. The vanity and other cabinetry will be custom designed to suit your exact storage needs.
For your upscale bathroom floor, choose porcelain or natural stone tile. If you're going for a serene spa-like aesthetic, white is a perfect calming palette. Want something more adventurous and contemporary? Consider a pop of color or a striking pattern. Beneath the porcelain or stone floor, radiant heating can be installed.
The cost for an upscale bathroom remodel and expansion begins at around $80,000 and it includes extending and rerouting plumbing and electrical systems. Of course, the average cost can increase as you choose more high-end features or add square footage to your home, extending your foundation and roof.
Primary bath
The master bath, more recently referred to as the primary bath, is an important space in your home. It's a place of respite and should include every feature and luxury finish that helps you begin and end your day in the best way possible. Your primary bath may include enough space for your design goals, or you may choose to expand the square footage to include everything you'd like in the space.
For your primary bath, include a large curbless walk-in shower with a glass enclosure, custom stone tile, or beautiful glass tile in a stunning emerald green, for example. A freestanding tub is quintessential for a primary bath. On the floor, large format marble tiles are stylish and also practical for in-floor radiant heating. You could also choose smaller porcelain or ceramic tiles, which also work very well to conduct heat from a radiant system.
Choose a double vanity or two separate vanities, each with custom storage options, like slide-out shelves, in-drawer outlets, and drawers with built-in dividers to keep everything organized. Marble is a classic choice for a primary bath, as is quartz. Choose a clean monochromatic stone, or something bold, like a black marble with white veining.
Lighting in your primary suite bathroom can include many different types, all operated by dimmer switches to have control over your lighting to suit your mood. Choose a statement fixture over your vanity, sconces for your freestanding tub, sconces on either side of the vanity mirrors, and recessed lights.
A primary bathroom remodel will cost on average between $90,000 and $125,000. More high-end and luxury features could bring your project beyond this average.

Your Unique Cleveland Area Bathroom Remodel
As we've mentioned, the cost of your bathroom remodeling project will come to its own unique cost, however, these averages and details are a great place to start when you're in the planning stages. Payne & Tompkins Design + Renovations is a high-end remodeling design-build firm in Cleveland that creates beautiful reimagined spaces, with every design unique to the homeowner's needs and wishes. To learn about our proven design-build process and what your bathroom remodel budget could be, contact Payne & Tompkins to schedule a consultation.