Best Covered Porch Ideas for 2023
Your backyard offers many opportunities to extend your indoor living space to the outdoors. Porches come in so many shapes, sizes, and functions that can give you the chance to host game-viewing parties, special celebrations, and quiet nights at home with family and friends. With so many options for porch designs, we can help guide you in choosing the best porch ideas for your Cleveland area home.
Top Covered Porch Ideas for Your NORTHEAST Ohio Home
Outdoor Kitchen
More and more homeowners are realizing the benefits of a porch with an outdoor kitchen. You could stick with the basics, like a built-in grill, a sink, and storage. Or, for a fully self-sufficient outdoor kitchen, add more essentials that could completely mitigate the need to constantly run in and out of the house for food, tools, and dishes. Add a range, separate mini fridges for food and drinks, plenty of storage, an ice maker, and a dishwasher to enable you to keep your outdoor dishes, cutlery, and glassware stored away in your outdoor kitchen.
Of course, your outdoor kitchen should have an adjacent dining space. If you're looking forward to having friends and family over for dining al fresco, be sure to create a large enough space to seat eight to ten comfortably. Also, include fans to keep your guests cool and shades to lower when the sun is a little too bright.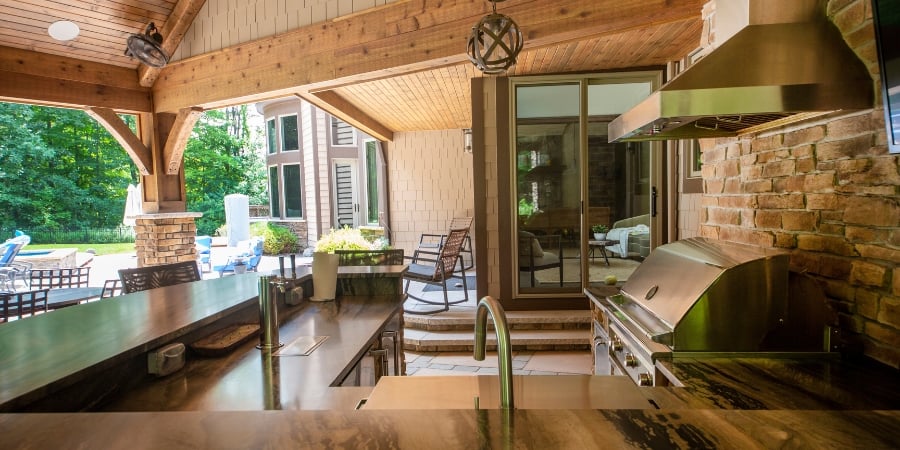 Fire Features
Picture a cool evening under a clear sky and sipping wine with friends. What's missing? A warm crackling fire to keep warm. Fire features have come a long way and can suit any design style. Rectangular gas fire features offer a lot more control with contemporary appeal. With more control over the fire settings, this type of fire feature can be installed under your covered porch with the right precautions. Your fire pit can be clad in metal, stone veneer, brick, or concrete, depending on the aesthetic you're after.
Game Day Epicenter
Your home could be the place where everyone looks forward to spending time watching the game. With the right layout, you could create a space that's perfect for enjoying snacks, drinks, and lounging around to cheer on your team. With larger spaces, install at least two televisions so anyone can have the best seat in the house. Work with your designer to create a layout that incorporates a dining area and a seating area, each with a tv and speakers throughout. Include storage and a mini fridge for easy access to refreshments and beverages.
All-Weather Comfort
If you'd like to enjoy your porch year-round, work with your designer to weatherize your outdoor living space. Choose overhead heaters, heavy-duty curtains to keep chilly breezes at bay, and a brick or stone fireplace along one side of your covered porch. If your porch will have an on-grade concrete floor, consider installing in-floor radiant heating. It's an incredibly efficient way to heat a space.
Removable porch windows or retractable screens are another efficient way to keep your porch comfortable in the winter but can be removed in the spring to enjoy the warm air. Your porch can be screened in or not, but have the framing in place year-round for easy re-installation when the temperatures begin to drop.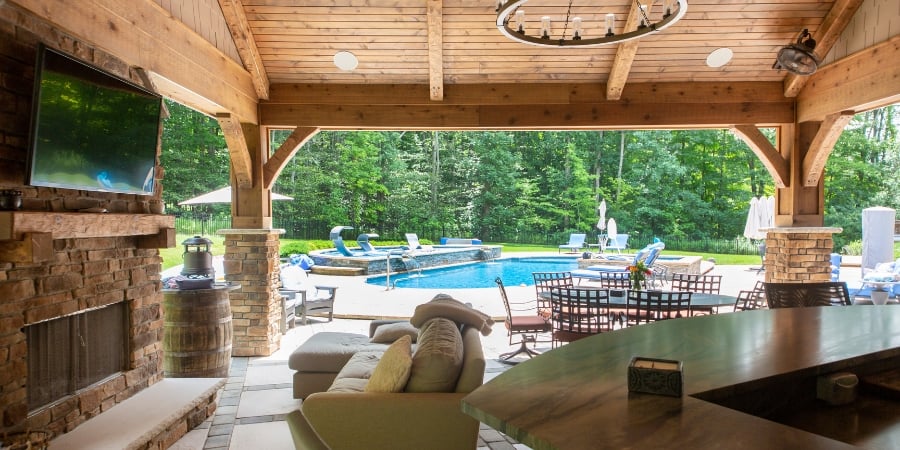 Poolside Escape
Your pool, or future pool, should be accompanied by a covered space to take a break from the sun or to be able to sit back and watch the kids play nearby. Include fans, loungers, outdoor curtains or shades, and landscaping to create comfort and ambiance. For a complete cabana-type atmosphere, choose a bright color palette and a completely natural wood structure.
Dynamic Spaces
To completely enjoy your space and easily spend time laughing, talking, dining, and sipping cocktails well into the evening, create a space with several options for relaxing, playing games, cooking, and dining. A dynamic space with an outdoor kitchen, dining space, lounge area, and ample space for impromptu activities will offer the perfect space for you, your family, and friends to spend entire weekends outdoors comfortably and happily.
How Much Does an Outdoor Living Space Cost in the Cleveland Area?
Outdoor living spaces vary so widely that it's difficult to pinpoint a final cost, unfortunately. At its most basic, a covered porch could begin around $75,000 and reach or exceed $300,000, depending on your design goals. The best first step is to contact a trusted expert in outdoor living spaces to help you properly assess your property, listen to your design ideas, and collaborate with you to create a design that exceeds your expectations while staying within your budget.
Payne & Tompkins Design - Renovations designs and crafts award-winning spaces for Cleveland area homeowners like you. We depend on the collaboration of all our team members and you to develop the perfect outdoor addition that you and your family will enjoy for years to come. Contact us for a consultation and let's begin to dream up your ideal outdoor living space.