Best Ways to Maximize Space in Every Room
Your Cleveland home may have plenty of square footage on paper, but what about where it matters: in real life? How we use the spaces in our homes can evolve over time, changing how much storage we need and the function of each room. A bedroom can become an office, an office may need to be occasionally used as a guest room, or a walk-in closet may suddenly need to accommodate an additional person's wardrobe.
Whatever your space problem-solving may entail, there are ways to maximize the space you have to feel less cluttered, more organized, and regain control of your home.
What Are the Best Ways to Maximize Space in Every Room of the Home?
Some rooms tend to take on more clutter than others. Other rooms don't offer enough space for you to use in the way you'd like. Let's discuss solutions for relieving your home of disorganized, cramped spaces, and taking advantage of the space you do have.
Choose the Right Furniture
Your favorite overstuffed chair is taking up a lot of both visual and physical space. Your bed frame that reaches all the way to the floor is robbing you of valuable storage space underneath. The sleek minimalist side tables in the living room are stylish but offer nothing more than two square feet of tabletop space.
To create more visual space, choose sofas, chairs, and beds with legs, rather than designs that reach the floor. By opening up these sightlines, you're already creating the impression of more space. The side tables in your bedrooms and living room should offer more storage options. A two-level coffee table, for example, can house games, blankets, books, and baskets of toys for the little ones, while the top is reserved for a little décor and a place to kick up your feet and rest your coffee.
If your bedroom is lacking much-needed storage, choose a bed with concealed storage below. Many stylish and sophisticated options are available to suit your tastes.
Opt for Built-Ins
If you're undergoing a remodel but must work within your same footprint, talk to your designer about where you can create built-ins. They are both visually appealing and highly functional. If you have a fireplace or are planning to have one built, this is a great place for built-in shelves. Taking advantage of the negative space between the fireplace and the wall, it's almost like adding square footage to your home by avoiding placing another large piece of furniture in the room.
Floor-to-ceiling bookcases are great on either side of a window. Add a built-in shelf with storage in the seat and you've just created a charming focal point with an incredible amount of storage. Even in a small space, bringing a built-in all the way to the ceiling and topping it with crown molding brings the eye up and makes the space feel taller.
A bathroom is a great place for using the shallow space between studs for small built-in nooks. Keep jars and decorative boxes filled with your daily essentials, like cotton swabs, bandages, spare toothbrushes, or almost any small necessity.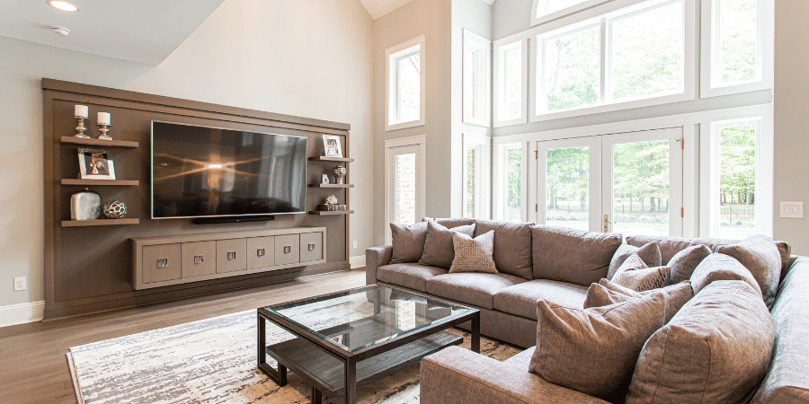 Create a Focal Point
Bringing focus to your room's best feature–or creating one–won't add physical space but it does give your room a centerpiece, which feels organized. This is particularly true if you play up symmetry. Is it a wall of windows? A great fireplace? Bringing attention to one great feature will help you compose the room in an organic and more organized way.
If more shelving to display your treasures from travel, books, records, or other items is what you'd like, designate one entire wall for bookshelf installation, but leave a large alcove in the center for your sofa. It's an incredible focal point that also replaces the need for side tables. This is also an application you could employ in a bedroom.
Don't Be Afraid to Create Layers
Many homeowners place one piece of furniture right next to the other, completely lining a wall, with the idea that leaving space in the middle of the room is maximizing space. Actually, layer and cluster your pieces strategically to create open spaces where you can have a direct view of the baseboards. By lining your walls with stuff, you're visually bringing the walls in and making the space feel much smaller.
For example, do you have a bookcase filled with items you only access infrequently? Place your side chairs angled in front of it to create a stylized cluster, freeing up space elsewhere. The same can go for a window.
Place Your Lighting Strategically
To make a room feel larger, use your corners. A slender floor lamp in the corner of a room will draw attention to its furthest point and make the space feel more expansive. Not to mention, you're also using floorspace that may otherwise go unused.
For table lamps, also choose slim, more minimalistic lamps that don't block sightlines. If you have large artwork or alcoves, install gallery lighting. You'll save on space while accomplishing the same goal as placing a lamp in a corner.
Install Pocket Doors
Pocket doors are every smaller home's best friend, especially for doors that tend to remain open or if opening the door makes furniture placement too difficult. Pocket doors can be utilized in more doorways than homeowners may think; such as bathrooms, closets, dining room doors, the pantry, mudroom, and laundry room. Not to mention, when well-crafted, pocket doors add architectural charm.
Organize
Everything
Slide-out bathroom vanity shelves, baskets in your pantry, dividers in your kitchen drawers, clear-front boxes in your walk-in closet, and step risers under the sinks can go a very long way. Hyper-organizing all of those little things around the house that tend to spread out and take up more room than they should reveals that you have more space than you may have thought.
Many homes have vertical cabinet space that goes unused. Invest in stacking containers that utilize that vertical space to make room for larger items that could be stored there as well. The same logic applies to shelving units in closets, particularly the higher shelves. Use this space for items you don't need to access frequently. For example, store sweaters, scarves, and gloves in zip-up boxes in these high spaces for the months you won't need them.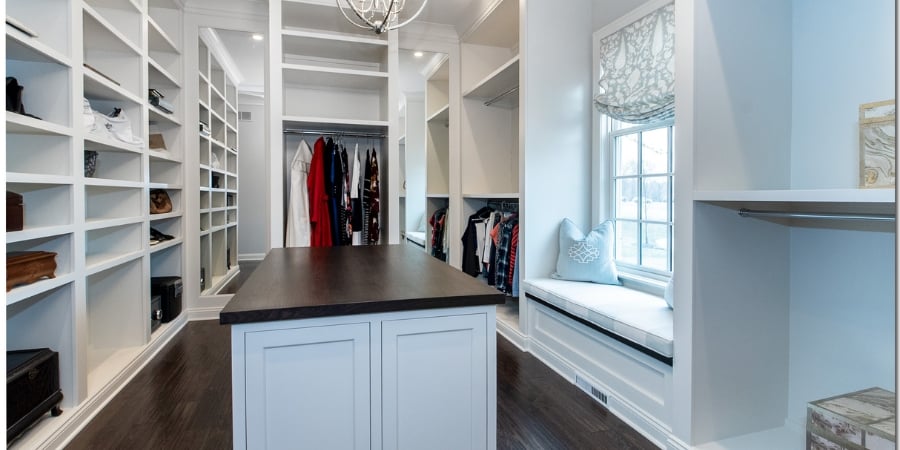 Make Rooms Multifunctional
It would be great to have a separate room for each function, but that's not possible for every home. If your kitchen has a few spare square feet near a window or in a corner, consider adding a bistro table. You may not have enough space for a full dining set, but it's perfect for morning coffee or finishing up homework in the evening.
Need a place for overnight guests? A classic Murphy bed in your home office is a far more space-saving solution than a daybed and more practical than a fold-out sofa in the living room. Plus, many styles have built-in shelving that doubles as a bookcase. In your child's room, a fold-down desk is great for homework or drawing and can be stowed out of the way when they're done.
If you don't have a linen closet, choose an upholstered bench for the foot of your bed to store spare sheet sets and blankets. If you've always wanted a built-in bar, you can choose a small amount of wall space in your living room for a shallow cabinet for bottles, and install floating shelves just above for glassware and bar tools.
Need Help Creating More Space in Your Northeast Ohio Home?
While many of these space-maximizing ideas are easy enough to apply on your own, some will require the help of a home remodeler. Creating clever solutions within your home's existing footprint is a specialty of Payne & Tompkins Design + Renovations.
We know that adding more space to your home doesn't always require adding more square footage. With years of expert design and problem-solving experience, Payne & Tompkins will learn about your home's challenges and collaborate with you on the perfect solution. Reach out to schedule a consultation and let's talk about making the most of the space in your home.