7 Best Furniture Trends for Your 2023 Remodel
Remodeling your home will spark an urge to rethink your home's interior design style by finding just the right furniture and décor for each room in your Cleveland home. A remodel, from additions to whole home renovations, is a great time to shake up your home's style and experiment with the most popular furniture trends in 2023.
What Are the Top Design Trends for Furniture in 2023?
The best part about the 2023 furniture design trends is that it's all about leaning into your personal and unique tastes, rather than going with generic styles. With every trend on our list, think about how your personal design style can come through in each one. Then, tap into the expertise of a knowledgeable Cleveland interior designer to help you find your perfect pieces.
1. Comfort & Curves
Curved furniture trends have been around for a couple of years. In 2023, there's an emphasis on how comfort also comes into play. The style, color, and shape should work with your overall design of a room but also prioritize comfort. There's been a big shift to spending more time at home and entertaining at home. If this sounds like you, create a space that your friends and family will want to linger in for a while.
Organic shapes are visually comforting and inviting. Ovular tables, swooping freestanding tubs, arched curios, and barrel-side chairs are innately welcoming. Curves are seen as more natural, and why people are drawn to these shapes.
When scoping out furniture or working with a designer to choose curved furniture for your home, it's important to pay attention to balance. Pair curved furniture with linear pieces to balance the room. A curved-back sofa set in front of a hard-lined credenza is a great way to balance opposing lines in the living room or family room and make the space conducive to hanging around for a while and enjoying quality time.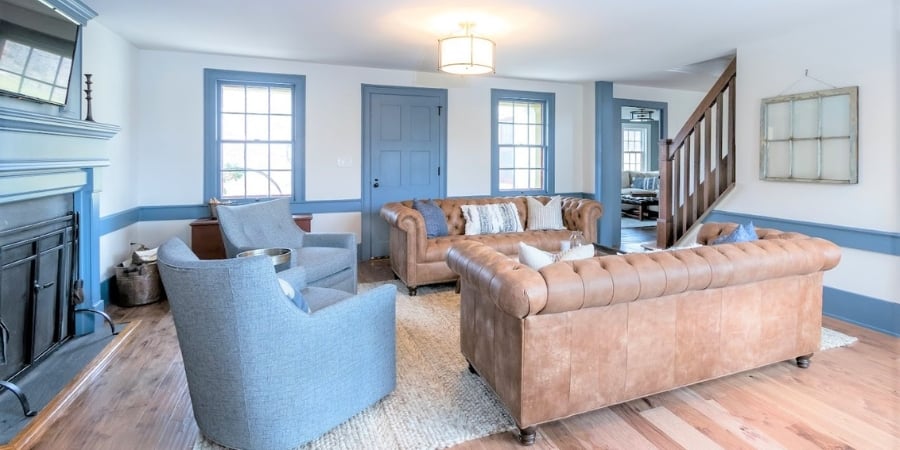 2. Biophilic Design
Biophilic design continues into 2023 and speaks to our draw to nature. It's all about creating an environment that incorporates natural materials, plant life, and plenty of natural light. What does this mean for your furniture? Certain materials, colors, patterns, and textures represent the natural environment. Natural wood, leather, linen, earth tones, seagrass, and nature-centric patterns can offer doses of nature inside your home.
Easy ways to incorporate this 2023 trend are also through color. Earthy colors are soothing. If you're wondering if brown furniture is coming back into style, the answer is, yes! All shades of brown–including tan, cream, chocolate, and tobacco–are making their way into homes in 2023. You'll also see every shade of green, earthy reds, deep orange, and the full spectrum of blue. As for materials, leather furniture, natural wood dressers, seagrass window shades, and jute rugs, all play on the biophilic design trend.
3. Jewel Tones
In 2023, popular furniture designs feature bold colors, especially jewel tones. Any room in your Cleveland home can use a burst of personality through the calculated use of color. A deep jewel-toned sofa or side chair will inject enough color into a space without being visually overwhelming. Deep jewel tones–like emerald green, sapphire blue, or amethyst–are timeless and sophisticated. If you prefer to keep your main pieces in neutral tones, use color in your area rug, tables, lamps, and throw pillows. Saturated and decadent jewel tones are yet another trend that speaks to homeowners' desire to see their own personalities come through in their design choices.
4. Sustainable Materials
Each year, we see more and more of a shift towards sustainability in every material a homeowner chooses for their home. This trend is extending into furnishing their homes as well. Choosing sustainable materials for your furniture reduces your impact on the environment and the harmful off-gassing that can occur with lesser-quality furniture.
Recycled plastics can be made into high-end outdoor furniture and even some durable and comfortable fabrics. Natural wood that's FSC Certified comes from responsibly-managed forests and is available in many high-quality furniture pieces, like dining tables, chairs, bed frames, and more.
Sustainability also concerns the longevity of the furniture you choose. Well-made pieces could become heritage pieces you can hand down to future generations, keeping poorly-made furniture out of landfills. Fast furniture, like fast fashion, tends to get worn out quickly and end up in a landfill in only a few short years.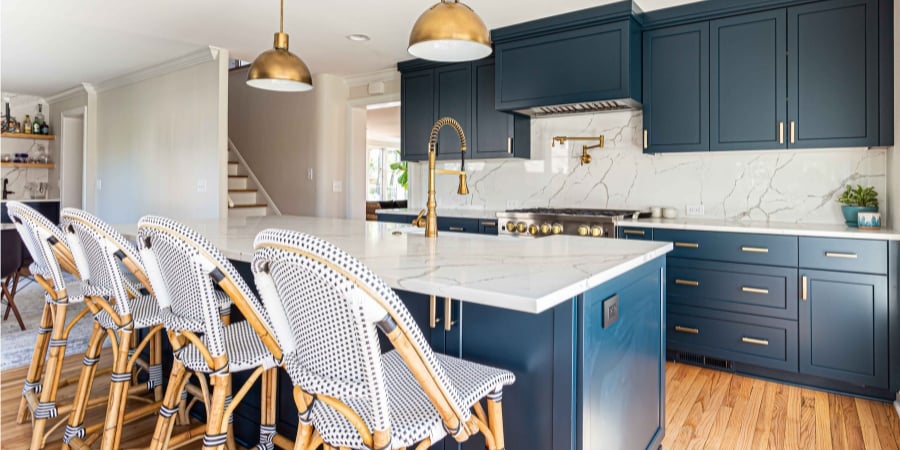 5. Texture
Texture continues its stronghold in 2023, with velvet sofas, chenille side chairs, seagrass wallpaper, and bamboo window shades. Texture can be inviting and creates visual interest in your Cleveland home. Reeded cabinet fronts in your kitchen or on your dining room hutch are striking and bold. Reeded wood accents can be contemporary, mid-century modern, or art deco in style, depending on the piece.
Invest in quality, high-end furniture that will have a texture that lasts rather than inexpensively made textures that will degrade over only a short period of time. A gilded, hand-carved vintage statement mirror in your bedroom or over the fireplace is a great investment and has already held up over decades, ensuring your piece will continue to add interesting texture to your home for several years to come.
6. Vintage And Heritage Pieces
Vintage and heritage pieces are in line with almost every other trend on this list: sustainability, interesting silhouettes and curves, luxe textures, and interesting colors and patterns. In 2023, the grandmillennial trend continues while many homeowners have a growing appreciation for interesting, authentic, and charming pieces that last. Heritage pieces could have been your inherited art deco buffet in the dining room, your statement mid-century slipper chair in your reading corner, or your stately walnut dresser with inlay wood accents in the bedroom.
When shopping for vintage furniture, don't count out pieces with unsightly upholstery or surface damage. You can work with an interior designer to choose fabric or find a furniture restoration company to restore these older, pre-loved pieces. Balance your new old finds with more contemporary furniture and minimalistic décor.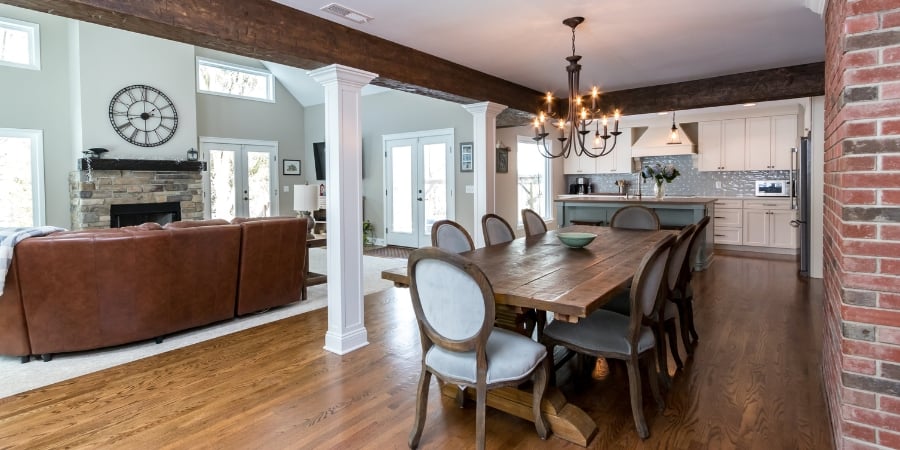 7. That One Special Piece
Every room should have a standout focal piece that draws your attention. Whether it's a bold fuchsia armchair in the corner of your bedroom or a set of upholstered dining chairs with ochre velvet fabric, choose something eye-catching and engaging for every space in your home. A new contemporary piece with a sculpture-like shape or a vintage solid wood heritage piece with hand-carved details will do the trick. Design the rest of your room with furniture that either plays off of those details or contrasts them for a dynamic interior design scape.
Tap into your fun and fantastical side when choosing your one special piece and balance it with more subtle pieces to let it stand out. Or, build off of your special find and go bold with furniture and décor that match its intensity but in a supporting-role kind of way. To achieve this balance, work closely with a designer to help bring out your personal style but also create a cohesive and calculated design.
Work With the Best Designer in the Cleveland Area
Your home should express your personal design style, so working with a designer that will collaborate with you to discover what that means for you is important. Payne & Tompkins Design - Renovations is a design-build firm that offers the full range of services you need for your high-end Northeast Ohio home remodel, including interior design. From design to construction, our expertise, experience, and knowledge combine to create a seamless process.
Our award-winning designs and central focus on our client's experience and design goals exceed expectations every time. Contact us to learn more about our services, our process, and how to begin your home remodeling journey with Payne & Tompkins Design - Renovations.